I am starting the wardrobe blog series on the big question, "Do I need to spend a lot on my wardrobe to win my pageant?"
I want to share a judging experience I had with National American Miss. One of my years as a judge was one contestant that stood out above the rest with a stellar interview - very relaxed, intelligent, and genuine. When she was on stage in evening gown she was natural, confident, and poised, but her dress was 100%, not a pageant dress. She came out in a red column dress with zero bling or anything of the typical pageant trend for her age division. The dress didn't matter though because who she was onstage and in that interview room was what won the pageant. All of us judges stood to applaud her when she was crowned and a few of us had some tears from her humble reaction. She went on to Nationals and placed in the top 5, won another state title, and placed top 10 at Nationals, and so on.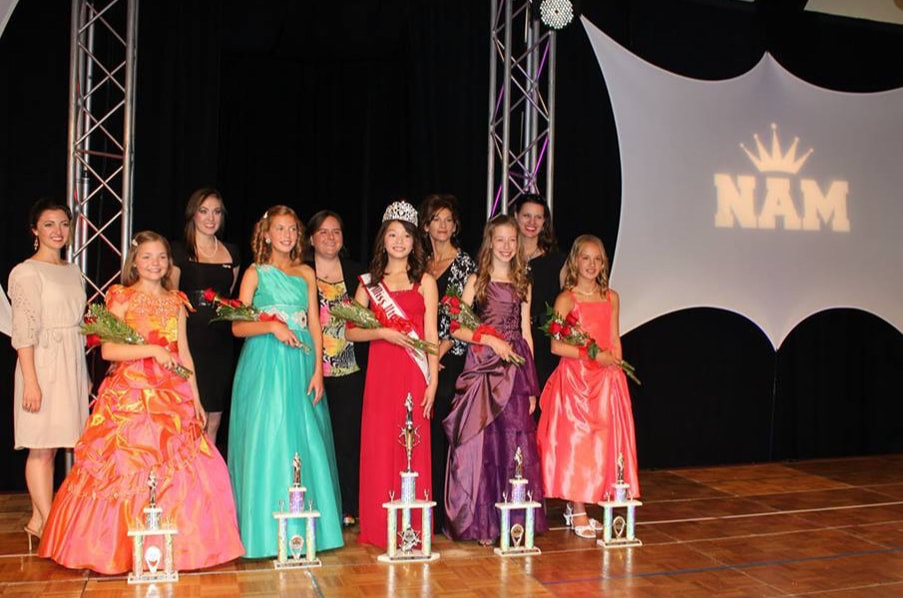 This isn't to say wardrobe doesn't matter at all. Typically at locals and some state pageants, judges know that wardrobe can change for the next level of competition, but the girl's personality, values, and who she is at her core, cannot be changed. You can teach a girl how to polish her public speaking skills, how to walk gracefully, and help give her confidence in knowing who she is and sharing that with others, but who she is at her core cannot be changed. That is something that judges can see and will always pick up on.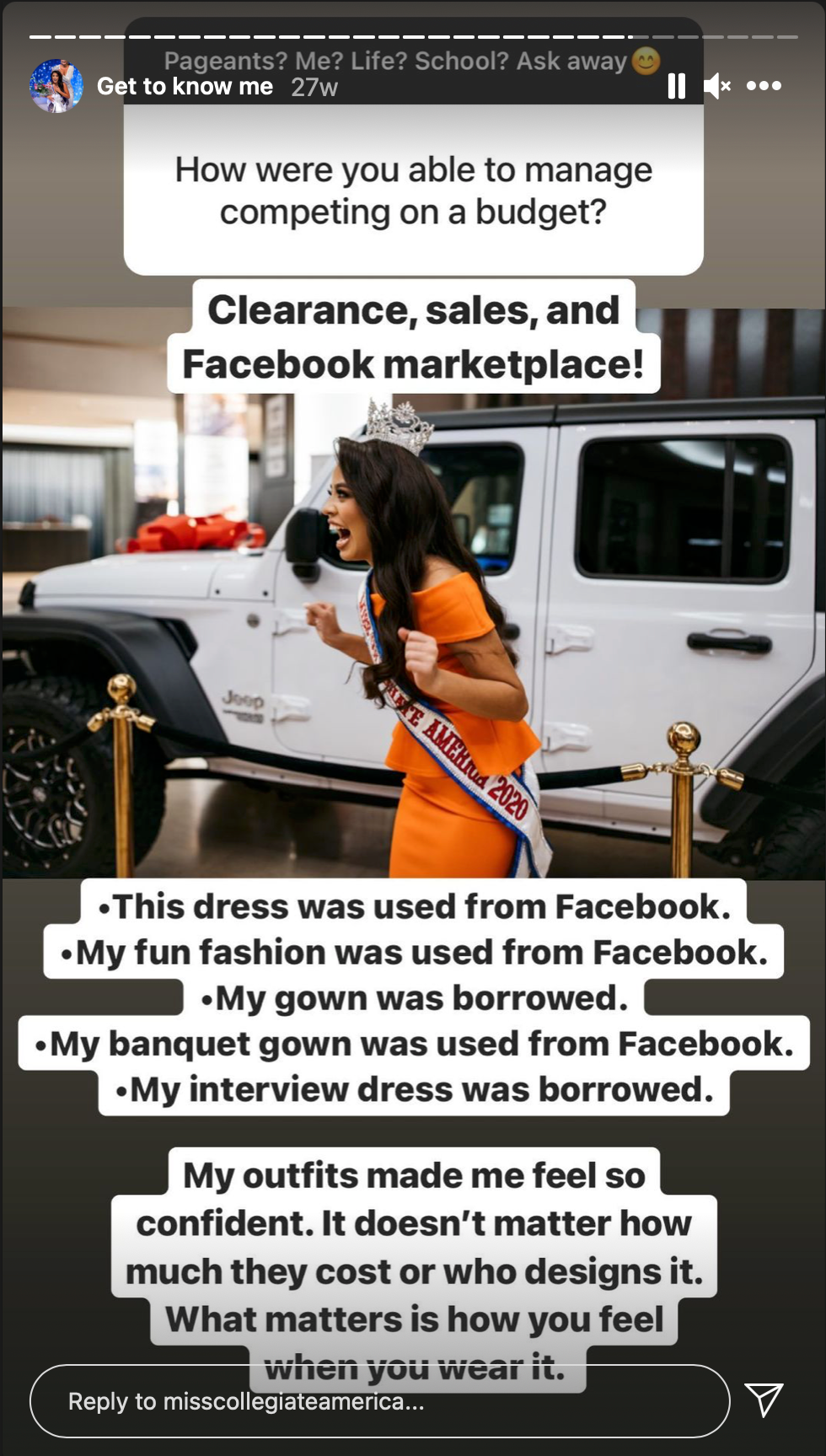 Did you know that our reigning Miss Collegiate America, Ronelle Valera, either borrowed or purchased second-hand items to complete her winning national wardrobe? I loved that she shared this information shortly after her big win on her Instagram stories. Even the beautiful Miss Universe Olivia Culpo won her first pageant, Miss Rhode Island USA, wearing a $20 rental dress with a hole in the back and was too short. (To see a full length image of Olivia's state gown visit Pageant Update here.)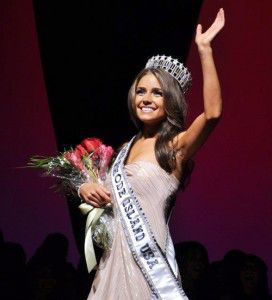 The infamous Savvy Shields, Miss America 2016, won her state title with a $12 interview dress from Forever 21.I love the transparency and inspiration from National American Miss Cady Stoever. She shared all about her Nationals wardrobe in a post on Instagram to shed some light on the topic as the NAM Summer Tour was about to begin. Check out her post below!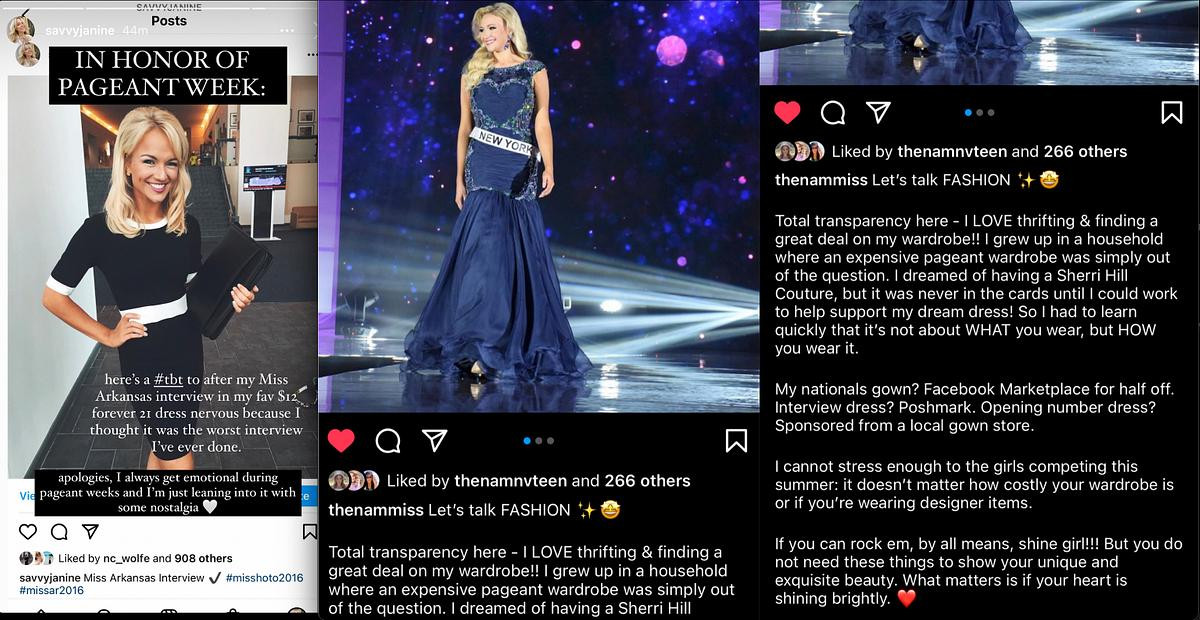 ​I hate to see contestants spend an insane amount of money on their wardrobe with the assumption it will make them win their pageant. Typically contestants like this spend too much time concerned about their wardrobe than they do preparing, which usually leads to a struggle in the interview room. Notice how Ronelle said, "It doesn't matter how much they cost or who designs it. What matters is how you feel when you wear it."? This is so true! When you feel amazing in what you put on, you shine.

So where can you find deals on wardrobe? For starters there are countless resale groups on Facebook that you can join (just start searching "Pageant Resale"). Thanks to technology we have amazing apps like Queenly and Poshmark to find great deals for preowned wardrobe too. Although if you are looking to be sustainable keep in mind that these apps do have brand new dresses on them, for example, Queenly partners with a variety of pageant retailers so you will see that mixed in with gowns that are being resold. If you live in a state with great thrift stores I guarantee you can find something that you feel amazing in for your interview and quite possibly a beautiful gown. Two amazing pageant ladies to check out for inspiration with thrift finds are pageant expert Dani Walker and Elizabeth Sartuche the reigning Miss Orange County.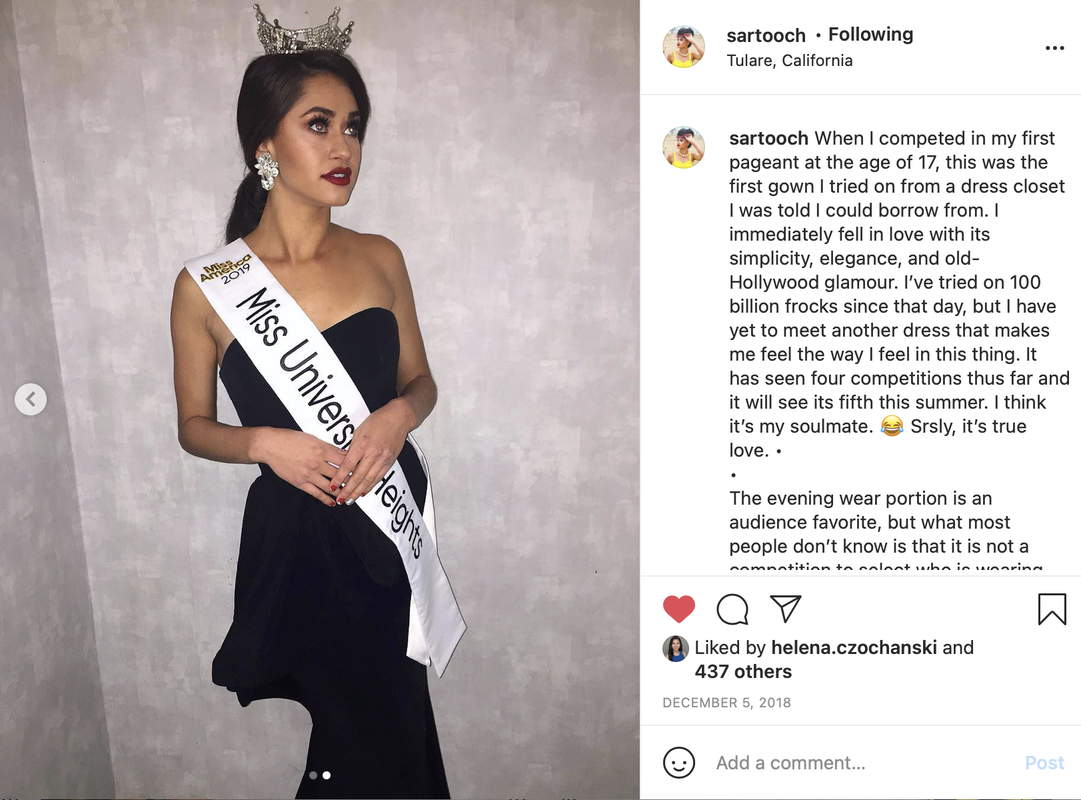 Don't be afraid to reuse your wardrobe too! The judges don't care that you've worn it before, nor would they know. If you feel confident in it and it works, why not reuse it? Elizabeth in the previous image shares how she's worn a borrowed gown at least 4 times. Below is Alexis Hilts, Miss Nevada 2018. This winning pageant gown of hers was first purchased at the end of 2011. She wore it competing in Miss Nevada Teen USA, countless Miss America local competitions and placed top 5 multiple years at Miss Nevada before taking the title in 2018.
Miss USA 2019, Cheslie Kryst shared how she reword her gown at Miss North Carolina USA for both the 2018 and 2019 competition year. She was crowned in it in 2019. She also wore the same swimsuit for all three years that she competed at Miss North Carolina USA. Additionally, she shared "I wore clothes I already competed at NC USA and wore clothes I already had in my closet for my interview my final year." Another great tip that she shared was to borrow wardrobe pieces from friends. Every pageant girl mentions how she has friends all over the country, so step up and help your sister queens out to cut out unnecessary expenses for your pageant competition.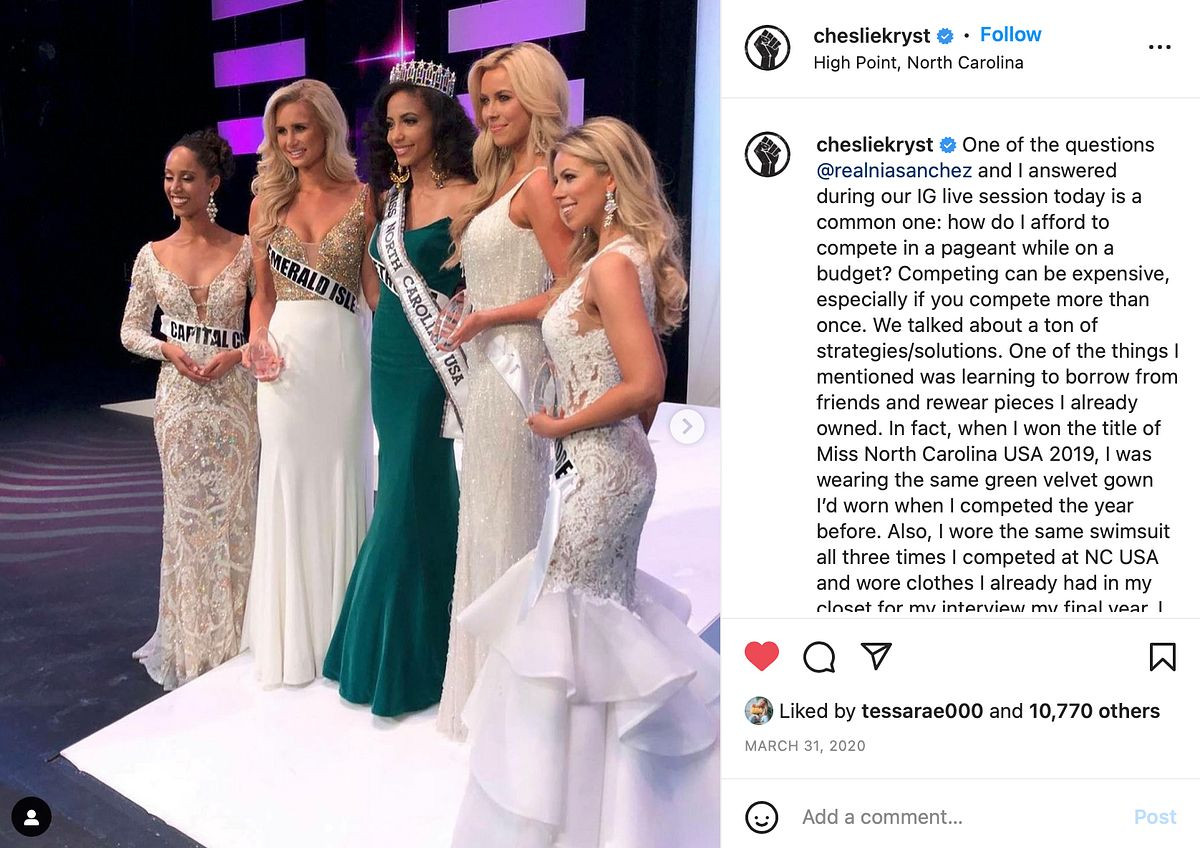 ​My biggest advice when buying on an app or a Facebook resell group though is to know your measurements. If that means going into a local seamstress and getting properly measured, please do it! Pair this with asking the appropriate questions before purchasing will save you potential headaches. You want to ask questions like, "What are the waist, hip, and bust measurements?" and "What is the length of the gown" OR "How tall are you and what heel height do you have on in this photo?". If you don't ask these questions you are taking a risk in assuming that a size 4 is the same with all designers and that the item hasn't been altered to fit the seller best which means it might be too small for you/your daughter. Also ask if there are any rips, tears, or stains. You can also purchase your check-in, orientation, and interview outfits from places like Amazon, ASOS, Zara, SHEIN, Lavish Alice, NY & Co, etc. ​With that being said, you can win your pageant without breaking the bank. Have fun with your wardrobe and make sure you feel confident in it.